Be Prepared. Or not.
It seems a WoW player who calls himself Prepared has got a setup whereby he boxes 36 toons at once in World of Warcraft. Via Alice.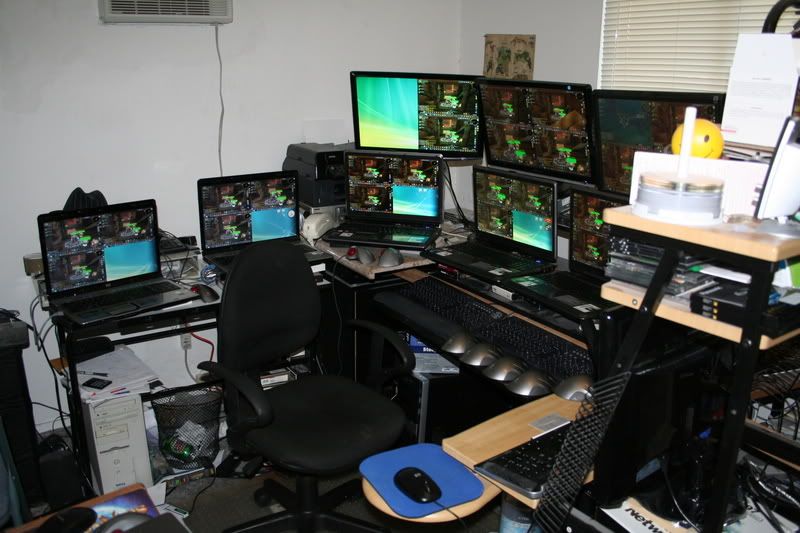 He says he does it because he wants to invade Ironforge or Stormwind when he hits the level cap. If you don't know WoW, these are two of the main cities there. So he's PvP focused. And he means business:



It costs me exactly $5711 in subscription costs per year with 36 accounts on the 6 month pay schedule. Not bad considering I'm looking at it like it's a hobby and there are more expensive hobbies out there than World of Warcraft. :)

Later he says,

When Wrath of the Lich King is released, I plan to be at the store when it opens and will purchase 36 copies of it. With tax, it should be about $1500 for all of them.

And I thought
I
was kind of obsessed with MMO's. He's right of course, there are hobbies that are much more expensive. Collecting Ming vases and Rembrandts, for example.

I've also got some mages and priests that I'm currently working on that are level 23. Once they are at level 31.9, I will stop working on them, get 16 of them to level 60 with the recruit-a-friend bonus levels and work on the shaman again.

It sounds to me like he's used the recruit-a-friend promotion to recruit himself, 24 times or so.
That's dedication. Or obsession. Or maybe both. I don't think we'll ever see this on EQ2, I doubt that many copies of EQ2 can run on one machine at the same time, it's so much more demanding of resources. Besides, 24 would be a natural limit, to field your own raid force.
Labels: multiboxing, pvp, world of warcraft